Solar Water Heating Systems
Description
A Training Program for Residential Solar Water and Pool Heating Design, Installation and Troubleshooting with Supplemental Sessions on Commercial Systems.
Course Description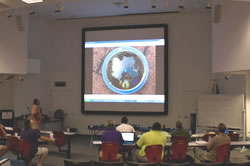 This three day course covers the essentials of residential solar system design, installation, troubleshooting and operation procedures for residential water and pool heating. The emphasis is on water heating. This workshop is targeted to contractors, building officials, decision makers, government organizations, practitioners who install solar water heating systems and interested parties. The material will be presented in such a manner that is understood by all.
The course format includes classroom instruction and in component demonstrations.
Topics covered will include
Solar water heating system applications
Basic solar fundamentals
Site determination and selection
System types
System components
System sizing options
System installation
Structural considerations
Commercial solar water heating systems
System troubleshooting steps
Solar pool heating
Safety in the workplace
Collector and system certification (FSEC and SRCC)
System monitoring
Hands-on demonstrations and laboratories will include:
Solar access assessment
Collector identification and disassembly
Collector mounting and pipe flashing
Controllers, sensors, and pumps
Indirect system filling and start up (pressurized glycol and drainback)
What Should You Bring
Attendees should bring a notepad, a simple calculator and pen or pencil. Presentation, reference manual and additional hand-out material will be provided. Dress is casual as there will be outdoor and unconditioned space activities.
General Information and Prerequisites
Prerequisites for this course include a fundamental understanding of plumbing materials and methods (i.e., piping, soldering, etc.). Familiarity with basic electrical concepts is also useful (i.e. use of multimeters, etc.).
Workshop Location
This workshop is offered at the Florida Solar Energy Center, 1679 Clearlake Road, Cocoa, FL, located approximately 45 miles east of Orlando International Airport and 3 miles east of I-95. A map, directions and listing of local hotels are available here.
FSEC Training and How It Relates to Installer Certification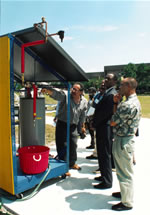 Any testing or learning assessment associated with this course should not be confused with national testing and certification offered by NABCEP, or with construction trade licensing offered by state and local jurisdictions. Although some states and municipalities may require that installers receive some form of a certification of completion from a training institution (such as FSEC), these certificates do not provide certification or license of any kind. They are merely intended to recognize successful completion of this training course.
The FSEC Solar Water and Pool Heating Manual is listed as an approved reference standard for the Construction Industries Licensing Board – Solar License. The CILB document reference sheet states that "the answers to the examination questions will be based on the editions listed below (FSEC manual being one of the references). Some of the questions will also be based on field experience and knowledge of trade practices." For this reason, the FSEC presentation material will be based strictly on the FSEC manual with supplemental material provided as required. In addition, the workshop material also strives to cover the various tasks listed in the national NABCEP Solar Thermal Task Analysis. This course does not provide any type of installer certification. A certificate of completion of this course will be provided. Currently, this course does not offer any continuing education credits.
Registration
The registration fee for this workshop includes all course materials. Lunch is on your own. However, if you are unable to attend the course for which you originally signed up, we will move your registration to a future course offering once, after that, your registration fee is forfeited.
This course is non refundable. (no exceptions.)
Technical contact
John Harrison
Florida Solar Energy Center
Email John Harrison
Registration contact
Dianne Rentz
Florida Solar Energy Center
Email Dianne Rentz
Please include "Thermal Workshop" in subject line for all email messages.

Course Location
Florida Solar Energy Center
2nd Floor Classroom
1679 Clearlake Road
Cocoa , FL , 32922, United States Of America